Thredbo's still feeling the blues this morning after what was an amazing weekend of good vibes, great music and perfect weather! It's safe to say the 2017 Thredbo Blues Festival was one to remember.
Music lovers and festival goers we're greeted with music from the get go as they arrived in Thredbo on Friday afternoon. With over 15 intimate venues hosting the epic line-up of over 70 artists, there was always a great gig to enjoy across the weekend. From the top of Australia to the jam-packed Kosciuszko room, guests we're surrounded by the sweet sounds of the blues and welcomed by the great vibes.

On the Friday Night the standout acts were Jeff Lang and The Foreday Riders who took it to a whole new level as they walked the blues through every pace imaginable, from fast to slow, there were tunes for all blues lovers to enjoy.
Saturday was all about Poolside, with perfect weather and a great line-up of bands set for the day it created the perfect atmosphere to enjoy a couple drinks and soak in the live music and stunning mountain views. Families and friends especially enjoyed performances from Chase The Sun and The James Southwell Band as they captured the crowd and transformed Poolside into a rockin' dancefloor.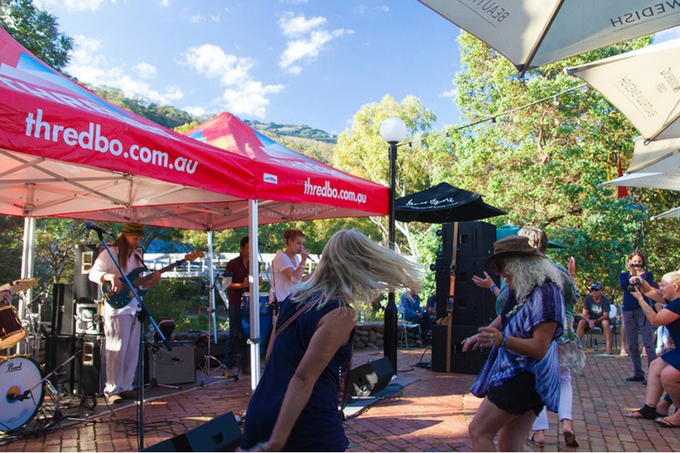 Come sun down, Hat Fitz and Cara Robinson played the intimate blues in Cascades Restaurant, where those in attendance enjoyed great food and wine alongside the band. Although a seated venue, a handful couldn't resist the urge to get up and groove!
Later Saturday evening the Kosciuszko room was shaking like never before with electric performances from both Kevin Borich and 19Twenty. The seats didn't take long to get moved to the side, as the huge crowd of music lovers  grooved the night away alongside their family and friends.
Sunday was yet another beautiful day in Thredbo and there was no sign of the blues getting to anyone yet, with amazing tunes and jam-packed venues, it was a perfect day for enjoying the blues! Ray Beadle showed off his amazing talent on the guitar under the sun at Poolside whilst the Blues Preachers turned it up another notch later on in Schuss Bar with their fast paced blues.
The 2017 Thredbo Blues Festival was a hit for all of those who joined us across the weekend. Boasting one of the best line ups of the festivals history and unique festival format, it offered all music lovers an unrivalled blues festival experience on the top of Australia.