WhereSchuss Bar
Time9 PM - Late
CostFree
How do you make a night out in Thredbo even better? Add a theme to it!
BLAM, POW, WHAM it's create your own superhero theme on Sunday July 23rd. Go all out on that costume as the best dressed will be scooping up prizes and and bragging rights with extra points awarded for originality. Resident DJ LUUKOZ will be spinning tunes and there will be in theme drink specials.
Stuck on costume inspiration? Think outside the box on this one. Go as someone with fierce powers like Bearman- as strong as 10 men and can uproot trees with one paw. Alternatively you could go the other end of the scale with slightly less amazing (but perhaps more funny) powers like Bubble Gum Lady – able to chew a whole packet of gum in one go and deflects enemies by blowing mediocre gum bubbles. The sky's the limit (or just above head height in some cases).
Upcoming Locals Nights themes –
August 6th – Tribal
August 20th – Slopestyle | 1957 ski fashion to now | Celebrate 60 years of Thredbo!
Sep 3rd – Dungeons & Drag Queens
Sep 10th – Let's get Tropical | Poolside Bar Pool Party
After a big week the locals like to let their hair down and they want to party with YOU – don't forget your costume.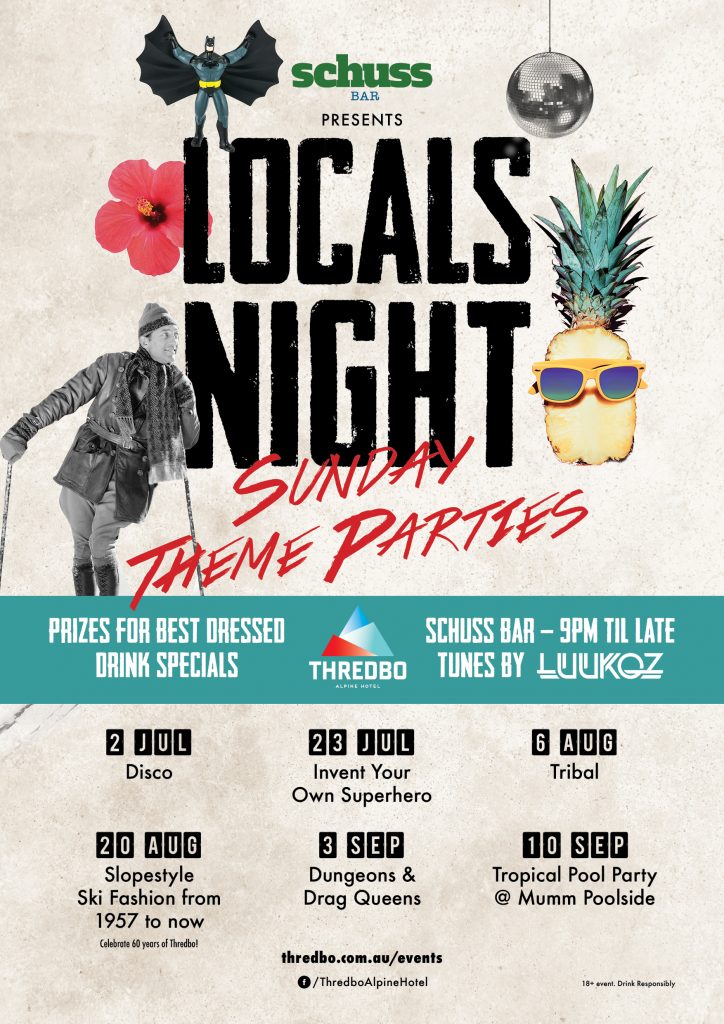 Book Accommodation Packages Here