Once the snow clears for the season and the weather warms up a little, the Snowy Ride gives motorcyclists plenty of reasons to come to Thredbo to enjoy the long, winding roads of the Snowy Mountains region and raise vital funds for research into a cure for childhood cancer at the same time.
The Snowy Ride is a fun fundraising motorcycle ride where you choose how much or how little riding you'd like to do. You can leave from anywhere, whenever you like, and take whatever route you like around checkpoints in Adaminaby, Dalgety, Berridale, Jindabyne, Cooma, Bombala, Charlotte Pass and Thredbo. Just by entering and paying your $60 entry fee for the Snowy Ride, you're automatically in the draw to win one of two Honda motorcycles, with a combined value of $25,000,  which have been generously donated to the Steven Walter Children's Cancer Foundation by Honda Motorcycles Australia.
And as host for the main event and Snowy Ride presentation, there's plenty to do in Thredbo even if you haven't got your own set of wheels. Honda Motorcycles brings a fleet of brand new bikes and offers free test rides, there's live entertainment on Friday and Saturday nights, BBQs, toboggan rides and plenty of bikes to admire.
The Snowy Ride has been held in the Alpine Region of NSW since 2001 and has helped the Steven Walter Children's Cancer Foundation (SWCCF) raise in excess of $7 million for research into a cure for childhood cancer. All monies raised by SWCCF goes to childhood cancer research programs and support of children with cancer. The aim of the Snowy Ride is to involve the motorcycle riders of Australia in raising money for research into childhood cancer and its side effects and to give the local volunteer organisations of the Snowy mountains area the chance to raise money for their own communities.
To find out more and enter for your chance to win, visit www.stevenwalterfoundation.org.au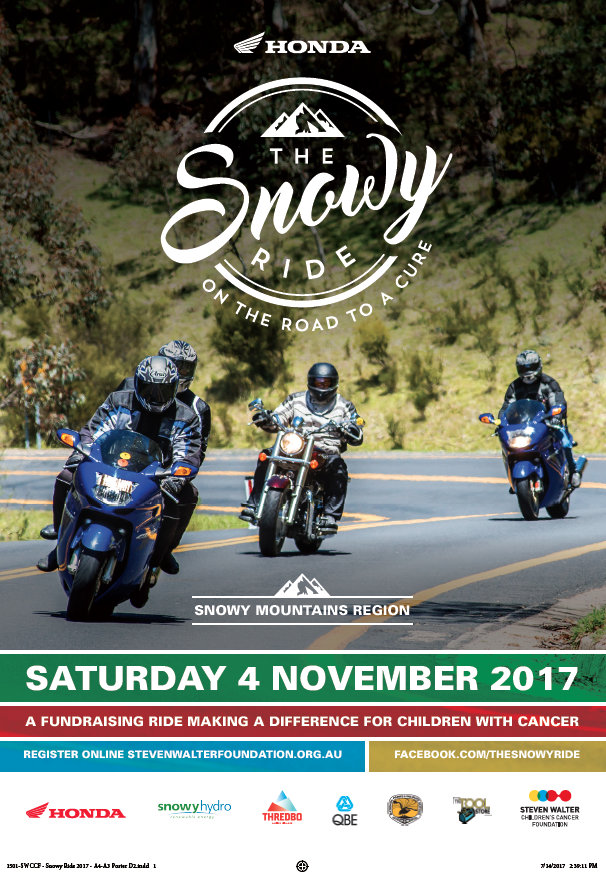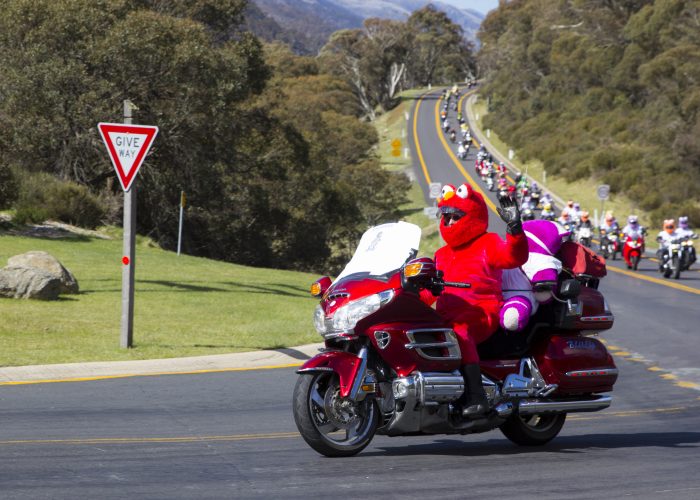 The Mass Ride
Weather permitting the mass ride will start at 3.30pm at the Bullocks Flat Ski Tube (location marked on Snowy Ride map). It's a great way to finish the Snowy Ride as the reception you get arriving in Thredbo is inspirational. A bit of a tradition of dressing up has developed over the last few years. It's a lot of fun and we appreciate the effort. Remember you still need to be
wearing full riding gear. Riders in costumes will be at the front of the ride. Please ensure you arrive by 3pm if you intend to take part in the ride.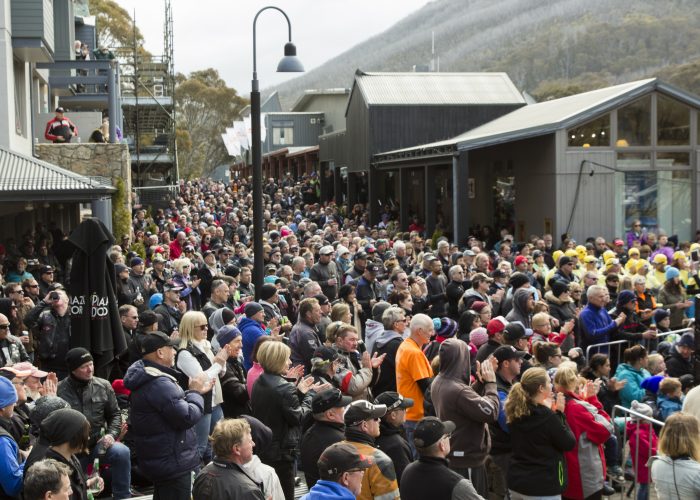 Entertainment
FRIDAY
4pm | Corroboree Frog | House of Ullr
8pm | Vinyl Rain | The Schuss Bar
SATURDAY
11.30am – 3pm | Children's Activities & BBQ | Poolside
3.30pm | Glenn Bidmead | Village Square
5pm | Presentation | Village Square
SATURDAY NIGHT
6pm | The Hip Replacements | Poolside
8pm | Vinyl Rain | The Schuss Bar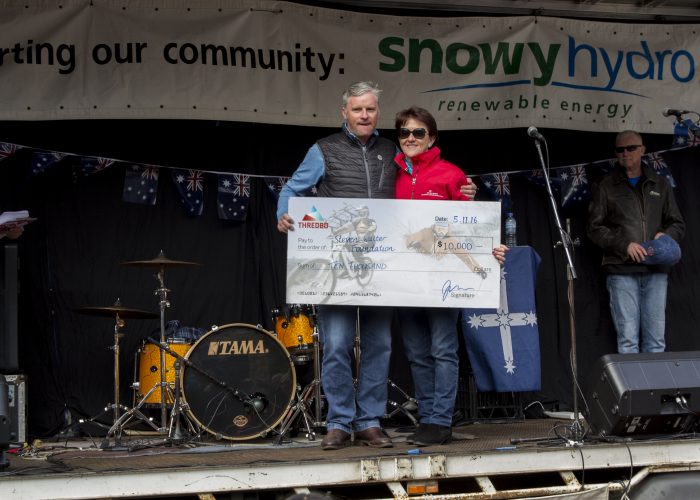 Presentation & Prize
Presentation and prize draw is on in Thredbo Village Square around 5pm, straight after the Mass Ride finishes. But we encourage you to hang around and enjoy the great entertainment on offer in various venues.
Dining
BOOK YOUR TICKETS TO THE FRIDAY NIGHT AMBASSADOR'S DINNER
We're inviting you to our special Friday Night Dinner which will feature our Snowy Ride Ambassadors Stuart Diver and Darren Skuse as well as Dr Toby Trahair from Sydney Children's Hospital. Tickets are $80 per person and include a three course dinner. Visit stevenwalterfoundation.org.au or call (02) 9542 5885 to secure your tickets.
GRAB A BBQ BREKKIE AND LUNCH IN THREDBO
A delicious BBQ brekkie and lunch will be available at two locations in Thredbo:
Honda Test Ride BBQ: lunch on Friday 3 November. Saturday 4 November brekkie from 7‐9am and lunch from midday.
Village Square BBQ: brekkie from 7‐9am on Saturday 4 November, lunch from midday and in the afternoon from 3.30pm while you enjoy the atmosphere and entertainment. Soft drinks available and all proceeds from the BBQ come to SWCCF.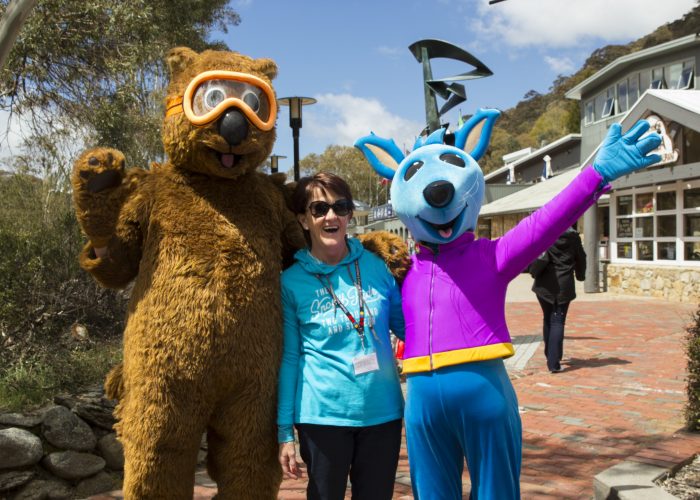 Snowy Ride Merchandise Store
Keller Bar ‐ Open Friday 3 November ‐ 9am to 6pm, Saturday 4 November ‐ 8am to 4.45pm and Sunday 5 November ‐ 8.30am to 11am.
Book Accommodation Packages Here