Time5.30pm - 12.30am
WhereOpen air stage - Jindabyne
Age18+ only
Grab your beanie and get ready to hit the slopes for a chill festival getaway.
Now entering its fourth year, Snowtunes is returning to the Snowy Mountains in NSW and has just dropped a stone-cold massive bill.
Let's start at the peak of this line-up mountain – Violent Soho will risk causing an avalanche with their headlining set. They'll be joined by UK drum and bass ballers Rudimental, delivering a DJ set with live collaborators. They recently produced 'My Way' for Thandi Phoenix, who's also on the bill – so that seems like a no-brainer stage match-up for sure.
Also performing at the two stage, two-day event will be Thundamentals, The Smith Street Band, Meg Mac, Hockey Dad, Confidence Man, Tired Lion, Slumberjack, Miss Blanks, Set Mo, and $50k-winning talent Mallrat.
Snowtunes 2018
Friday 31 August & Saturday 1 September, Jindabyne, Snowy Mountains NSW
4B
Amastro
Aviva
Bec Sandridge
Confidence Man
Crooked Colours
DJ Sabio
Ducky
Hockey Dad
Kayex
Losty
Luude
Mallrat
Meg Mac
Midas Gold
Miss Blanks
Nyxen
One Day Apart
Pacific Avenue
Rudimental DJs
Set Mo
Slumberjack
Thandi Phoenix
The Smith Street Band
Thundamentals
Tired Lion
Violent Soho
Yahtzel Live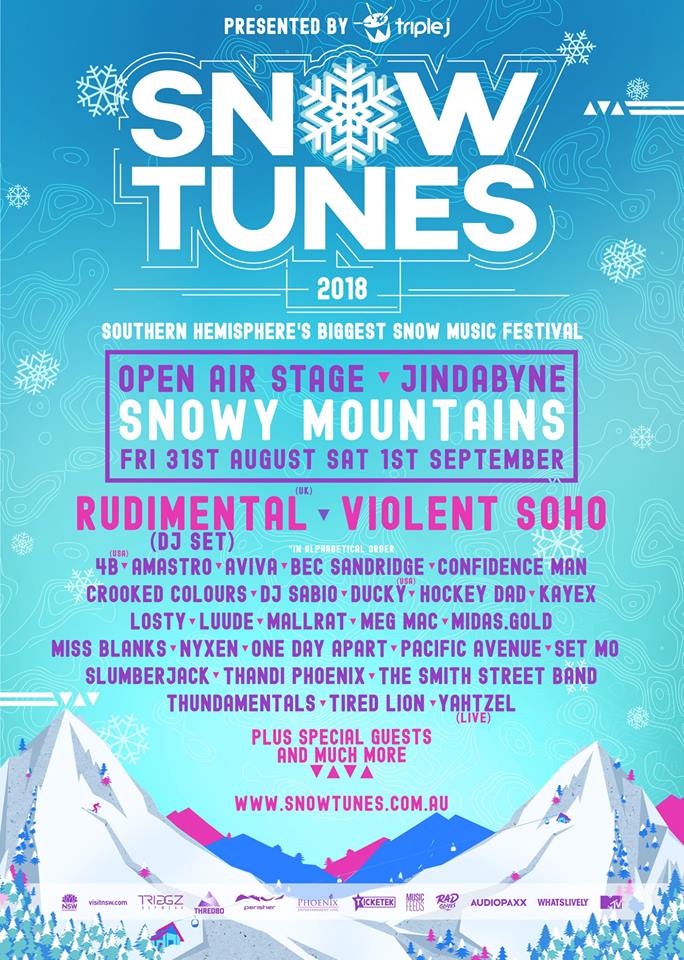 Sign up for news
Subscribe to our newsletter to receive deals, the latest weather, forecasts, news, events and more!