WhereFriday Flat Terrain Park
Time9.30am - 3.30pm
CostFree
Event Bib$5
Age17 yrs & under
MUST WEAR A HELMET Parental supervision required
The Torah Bright Mini Shred Supported by Toyota is a grommet's dream come true. Spend a whole day shredding, learning and progressing in the terrain park with Olympic Gold Medallist Torah Bright and a handful of other professional skiers and boarders. You could be the next big thing in skiing or snowboarding!
Get Tips. Get Stoked. Get Your Mini Shred On!
"The Mini Shred is my favourite day of the year. It's fun and is all about making new friends to shred with and learn new things in a safe but progressive environment. Come play"- Torah Bright.
Torah has gathered an all-star line-up of Australian Olympians and legends to be guest coaches for the day. The coaches include Olympic boardercross Silver medallist Jarryd Hughes, Belle Brockoff, Jess Rich, plus other Olympic legends including six time Para Olympic Gold Medallist Michael Milton, Dual Olympians Manuela Berchtold and Scott Kneller…Plus local legends including Jye Kearney, Charles Beckinsale and many others.
The Thredbo terrain park crew will develop one of the coolest mini terrain parks for the event with a sweet jib and jump line, transitions and rollers – all mini size just ideal for learning. Combine this with a roll call of Aussie snow stars who line up to assist and mentor on the day, the groms describe it as – the BEST DAY EVER!
For everyone on the day, there's a signing session with Torah and her snow pro friends, a sausage sizzle, DJ and giveaways thanks to Roxy and Rhythm Snow Sports.
Participation at the event is free but if you register online for $5.00 you will also secure an official Torah Bright Mini Shred Event Bib to take home.
Sunday 15 July, 2018
Schedule – 
9:30am – Meet at top of Friday Flat Park
10:00am – Meet the coaches, session start
12:00pm – BBQ
1:00pm – Afternoon coaching session/ jam session
2:00pm – Presentation
2:30pm – Coaches Signing
BYO water 
Meet the coaches – 
Snowboarders
Torah Bright – Olympic Gold & Silver Medallist
Jarryd Hughes – Olympic Silver Medallist, X-Games Gold Medallist
Belle Brockoff – Dual Olympian
Jess Rich – Olympian
Jye Kearney – Australian Rail Master
Charles Beckinsale – Professional Snowboarder
Charlie Steinbacher – Australian Freerider
Ryan Tiene – Head Coach, Turn & Burn Snowboard Camps
Skiers
Manuela Berchtold – Dual Olympian
Scott Kneller – Dual Olympian
Michael Milton – Summer and Winter – multiple Gold Medallist. World Speed Ski Record Holder
Thomas Waddell – Australian Freeskier
Dan Heckenberg – Australian Freeskier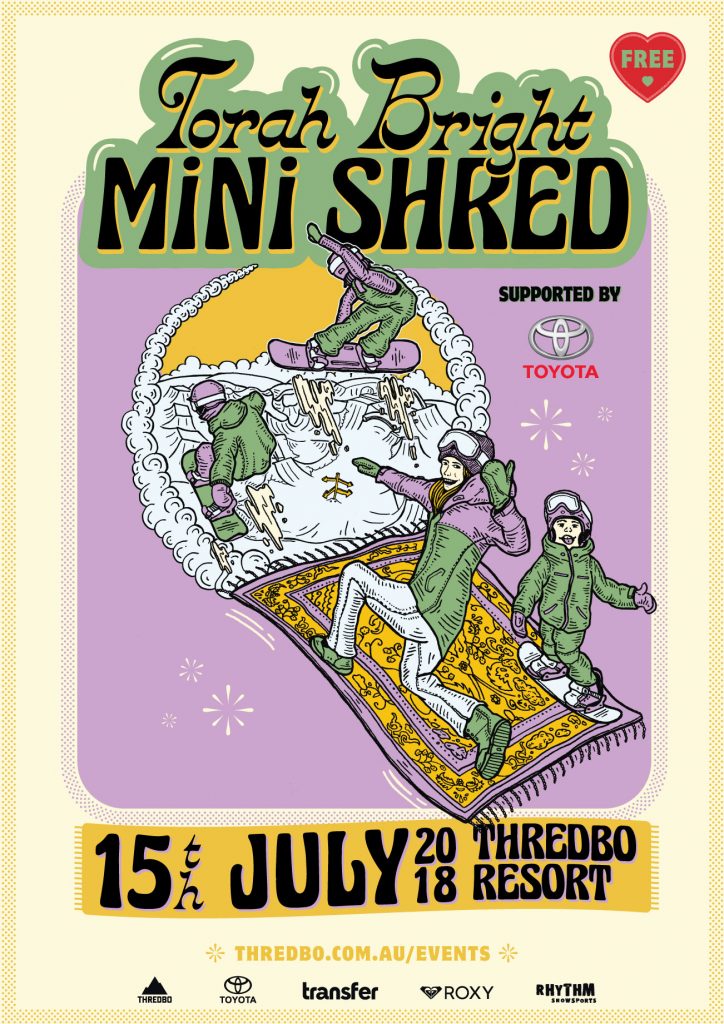 Sign up for news
Subscribe to our newsletter to receive deals, the latest weather, forecasts, news, events and more!