14 January, 2017
Where: Poolside, Thredbo Alpine Hotel
Dress Code: White attire
Time: 5 pm - late
Cost: $59 per person
Booking: Call (02) 6459 4200 or email tahreception@thredbo.com.au
Toast summer in Thredbo in your most elegant whites on January 14th from 5 PM Poolside at the Thredbo Alpine Hotel.
For one truly special evening Poolside Bar will be transformed into a spectacular cocktail party filled with beautiful themed decorations, tantalizing cuisine, a five piece jazz band and laughter. For only $59 per person enjoy a drink on arrival, roving canapés, a Sydney Rock Oyster bar, antipasto bar and decedent dessert bar plus limited free seats on the bus from and to Jindabyne. One lucky guest will also be awarded best dressed on the evening with a night's accommodation and breakfast during the 2017 winter season at the Thredbo Alpine Hotel.
Dance the night away under the beautiful Thredbo sky this January. Call (02) 6459 4200 or email tahreception@thredbo.com.au to book your evening.
Book Accommodation Packages Here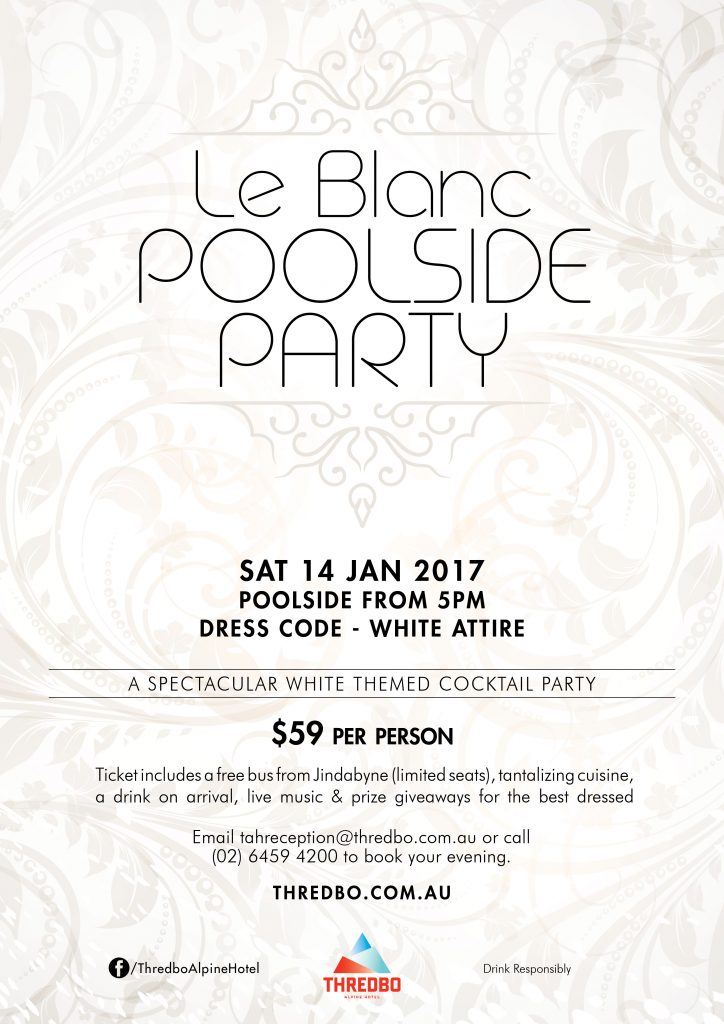 For any inquiries about events please email tahadmin@thredbo.com.au