Thredbo has one of the best ski and snowboard schools in Australia and offers a variety of lessons and programs to suit all abilities. Ski and snowboard lessons from Thredbo's outstanding team of instructors provide the best possible opportunity to learn or improve your skills, build confidence on the mountain and access lift line priority.
---
Thredboland – Ski Program – Max 4 (4 Years)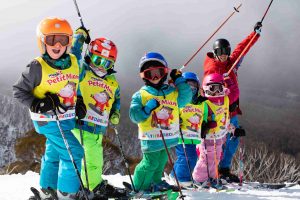 Thredboland – Ski Program – Max4 (4 Years)
Thredboland's Ski Program for children 4 years old offers a full day program for kids with a max lesson size of only 4 kids per instructor. This provides plenty of one on one attention so they can learn at a faster rate. The day not only consists of ski lessons but also includes meals and incorporates fun themes and activities for the kids to enjoy both indoors and on the snow.
Lesson Benefits
Max 4 kids per group
Dedicated 4 year old program
Fun learning environment with kids that are similar in age and ability
Parent conference & daily progress report at the end of the lesson
The day begins indoors with various fun ski activities before heading outside to develop skiing skills
Morning tea, warm lunch and frequent access to food and beverages
**Lift line priority
What You Need to Know
Available for skiers aged 4 years only
Helmets are highly recommended for all kids participating in lessons
Stand-alone program excludes equipment rental.
Children must be toilet trained to participate in group lessons
Lift pass included
Thredboland Times:
Full day: 9am – 4pm.
Drop off from 8:30am-9:15am inside Thredboland
Pick up from 3:30pm-4:00pm inside Thredboland
Afternoon: 1pm-4pm*
Check in from 12:30-12:45pm inside Thredboland
*Please note lunch is not included in the afternoon programs
**MAX4 groups sizes cannot be guaranteed for guests who arrive after the program start time of 9:30am or 1pm for PM sessions.
Lesson pricing and bookings for Winter 2020 will become available early 2020
Sign up for news
Subscribe to our newsletter to receive deals, the latest weather, forecasts, news, events and more!