Plan your wedding at the Thredbo Alpine Hotel and give yourself a whole mountain of choice.
Located half way between Sydney and Melbourne, Thredbo is snuggled in a valley in the heart of the magnificent Kosciuszko National Park. The stunning beauty of the great outdoors makes Thredbo the ideal wedding venue and provides an array of breathtaking ceremony or photographic settings.
Thredbo is open 365 days a year and once in the village everything is within easy walking distance.
The Thredbo Alpine Hotel is situated in the centre of town, close to everything you need for your big day. There's a neat mix of reception venues even closer, they are all in the hotel!
We can tailor all inclusive packages that best meet your wedding wishes. From ceremony and wedding venues to accommodation, we can look after it all. The dedicated Wedding Co-ordinator and our Executive Chef Kane Stamp will work with you to prepare a menu that suits your tastes, theme and timing.
We have a professional and experienced network of wedding photographers, celebrants, coordinators, make up professionals, entertainment to make sure your special day is exactly that.
From a small intimate gathering to a hens or bucks event or a big bash, you have the flexibility to pick and choose. For your guests there is a huge selection of activities and a range of accommodation from self-contained apartments to hotel style.
From the first ideas to the finishing touches, there really is no better place to say I do.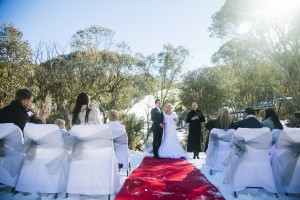 For more information on our wedding packages, please contact our Thredbo Alpine Hotel Weddings Coordinator at tahgroups@thredbo.com.au or on 02 6459 4184.

Download Thredbo Wedding Kit:
Testimonials

Weekend was fantastic, thank you! The weirdest part is saying my husband or wife lol
We are so thankful for everything, the day went so smoothly and all staff were extremely helpful. Thank you so much for everything
Natasha & Tristan
September 2013
What can we say but a huge thankyou. You were so wonderful throughout the whole day and all the lead up.
We have had so many comments from our family and friends on how good you were.
From arranging the whole day for us and all ours and few friends accommodation.
For always being available and ready to help right away.
Your extra special touch to welcome us into the rooms. Your sweet card on Friday night to my 2 girlfriends and I with the schnapps. And then again for us on the wedding day, with the canapés and champers. And then again after the wedding with strawberries and champers. Then the full breakfast on both Saturday and Sunday mornings.
We couldn't really ask for more.
We have discussed over and over how good you are and recommend anyone to get married there. The day went off without any dramas. You even got my shoes from the Kosi Room when I was ready to walk into the lounge bar in my stockings. Lol
You and your team are just wonderful. Everyone was so nice and helpful. We are just lost for words how grateful we are to you all.
Thankyou from the bottom of our hearts. You are truly the best
Diana & Chris
July 2013
I want to take the opportunity now to thank you for everything you did for us. From helping us organise the day to making sure James had a beer in hand after his 'run-in' with the NPWS to the little gift and note we found you had left in the room on the wedding night. It was the little things like that that made our day just that bit more special. Nothing seemed to be too much trouble for you and you helped me stay calm and relaxed on the day. Thank you!!!!
I also want to thank the rest of the staff at the TAH for their effort and enthusiasm. I received a lot of glowing compliments from my family and friends about them and how they made us all feel so welcome. Mum still talks about them! Their friendly attitudes both at the wedding and at breakfast were great and we all loved how they enjoyed having a chat and asking how the day went. We had an absolutely brilliant night and some of our friends even said that it was the best wedding they had ever been to! Wow! I will happily recommend you to any other friends looking to get married up in Thredbo.
I know I've missed out a lot of things but Thank you! Thank you! Thank you! for everything.
Louise & James
January, 2013
I just wanted to write to you to say a huge thank you for everything that you did for Ryan & I before and during our Wedding in June this year.
Our special day just wouldn't of been the same without your incredible help. You really helped make our day perfect in every way imaginable.
I have received our professional photos and I would love to be able to share them with you.
Thank you once again for everything!
Kandace & Ryan Keightley