About Thredbo
Thredbo is Australia's Premier Alpine Resort. Located at the heart of the Australian Alps and situated only 6 km from the peak of Australia's highest mountain, Mt Kosciuszko, it operates 365 days a year and boasts the best alpine terrain in the country.
Established in 1957, the only alpine resort in Australia to celebrate over 50 years of operation, Thredbo is the essence of Alpine Australia. With such history it has created a culture and community unlike any other resort in the country. The village, situated at the base of the Australia's highest mountain range, caters to over 5000 accommodated guest and up to 8000 mountain goers each day, providing the ultimate alpine experience.
With over 40 cafes and restaurants, 480 hectares of riding terrain, Australia's longest runs and a vertical drop almost double that of any other Australian Resort, it's no surprise that Thredbo is a favourite for a first time snow experience, experienced skiers & snowboarders, mountain bikers and alpine adventurers.
Thredbo Resort Statistics
Winter Season Dates: 08 June 2013 - 7 October 2013
Riding Terrain: 480 hectares
Vertical Drop: 672 metres
Base Elevation: 1365 metres
Summit Elevation: 2037 metres
Day Ticket: $110 (Discounted multi day & early season tickets available)
Beginner/novice: 16%
Intermediate: 67%
Advanced/expert: 17%
Longest Run: 5.9 kilometres (Karels T-bar to Friday Flat.)
Lifts: 14
Permanent population: 201
Average Snowfall*: 203cm
2012 Top Snow Depth*: 215.5cm
Snowmaking: 75 hectares
* This information is from Snowy Hydro Ltd, Spencers Creek location. It is measured from the highest level of snow recorded at Spencers Creek at 1830metres (height of the Merritts area) from the years 1954 to 2012.
Known best for
Long runs, excellent snowmaking system, natural on-snow features, a range of accommodation options, smooth groomed trails, variety of terrain parks, highest lifted point, cool village atmosphere, being the winter playground of choice for celebrities, great kids on-snow facilities, village facilities, swift lifts, night life, long wide Supertrails, being cosmopolitan, easy access to the Main Range, lots to do both on and off the slopes, free shuttle bus rides to your accom, easy day and overnight parking, close access to slopes, mix of eateries.
Best kept secrets
Golf Course Bowl powder days, Waimea high above the Cruiser, twilight skiing, Bushranger off Snowgums Chair, snow shoeing to Mt Kosciuszko, Thredboland Animals, Friday Flat Freddie train for the kids, Saturday night flare run and fireworks, kids fibre optic flare runs on Thursday nights, exploring the Ramsheads in the back country (then heading for a run into Dead Horse Gap), gondola ride to dinner at Eagle's Nest, Thredbo Ski Museum.
Thredbo Snowmaking

Thredbo's snowmaking system continues to impress even the most dogged snow purists. Year in, year out, ongoing upgrades and advancements continue to provide Thredbo visitors with the best possible snow conditions.
Thredbo's snowmaking covers trails from the heights of the Kosciuszko Express and the Cruiser to the steeps of True Blue and Little Beauty all the way down to the beginner land of Friday Flat. This summer the mountain crew expanded the snowmaking area by installing automated hydrants to the Eagle Way area off the famous Kosciuszko Express and added guns to the Beginner Bowl at Friday Flat.
This expansion, combined with the past three stages, gives Thredbo the most extensive snowmaking coverage in the Southern Hemisphere and now 75 hectares can be covered. The projected output is now up to 600,000 cubic metres of snow a season, this equates to covering around 60 average size football fields in one metre of snow, more than tripling the amount over pre-automated days.
Come season 2013 Thredbo's system will boast a 330 automated guns with the ability to have 215 firing at any one time, covering trails for all abilities.
Over the past four years $8 million has been invested in fully automating Thredbo's snowmaking system this includes laying water pipes, data and electrical cabling and new snow guns. This automation upgrade represents the most significant advances in snowmaking since the first pipes were laid in 1987, to date the cost of building the snowmaking system is over $35 million.
The automation of the snowmaking has been an outstanding success. The snow product just keeps getting better, which is great for customers and great for the future of the snow industry. The standout of this automated system is that it is energy efficient, producing triple the amount of snow with close to the same energy output.
So what does that mean for you? Well, simply… more snow. When conditions allow, Thredbo's mammoth snowmaking system fires up and has the capability to cover trails for all levels of snow rider.
---
Brochures & Maps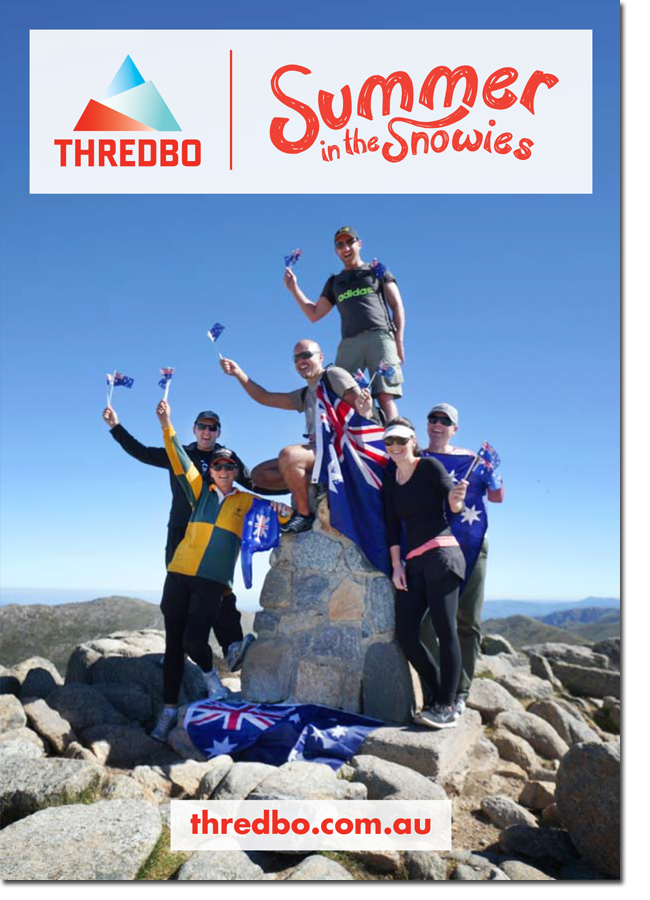 2014 / 15 Thredbo Summer Adventure Guide
Packed with everything you need to plan your Thredbo summer adventure.
View the online version here
Download a copy here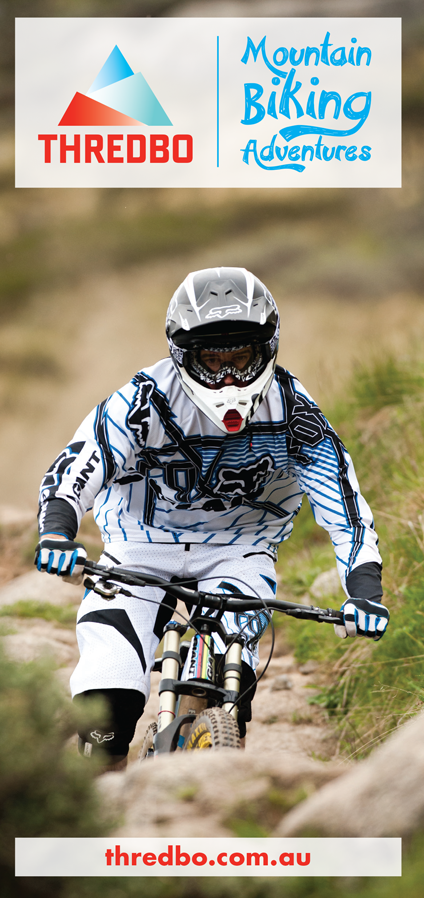 2014 / 15 Mountain Biking Adventures Guide
Filled with all the latest on Thredbo MTB.
- Mountain Bike Clinics, Tours & Lessons
- Mountain Biking inductions
- Bike rental, Private sessions
- Downhill and XC trails
- Pump track, skills & jump park
and more..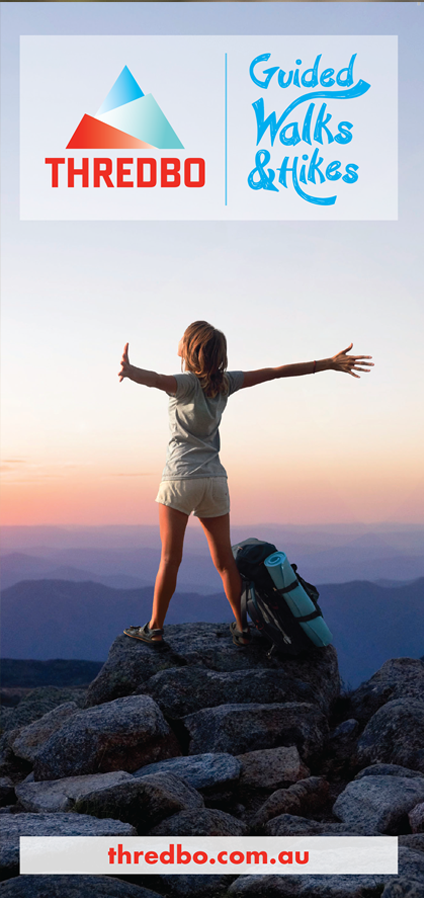 2014 / 15 Walks & Hikes Guide

Filled with all the latest on Thredbo trails
- Guided walks
-  Self guided walks
- Special walks including full moon, sunset, Australia Day and more
and more..
2014 Winter Resort Guide
The perfect size to pop into your jacket, packed with everything you need to know about Thredbo. Download yours here.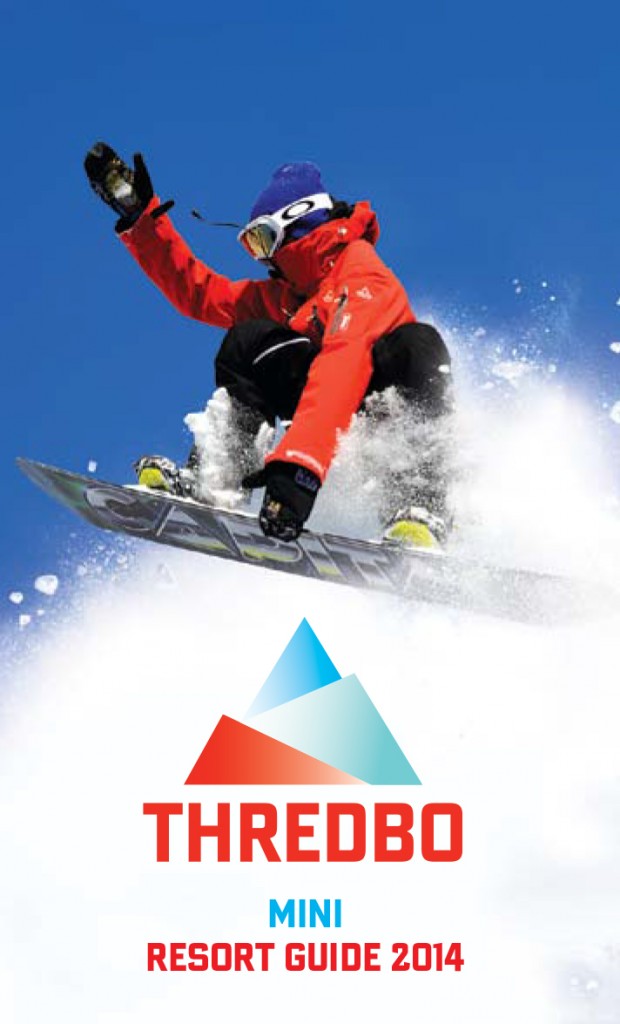 MAPS
Thredbo Mountain Map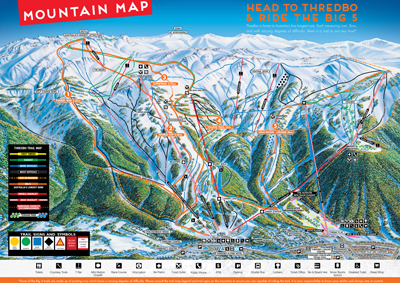 Download the Thredbo Mountain Map
Thredbo on the hill map with  runs and trails and check out the 'BIG 5′
Thredbo Village Map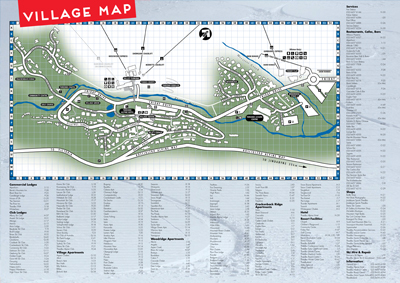 Thredbo Village shops, restaurants, bars, services, facilities and more.
Download the Thredbo Village Map
---
Getting here
---
Sponsors
Thredbo would like to thank the following companies for their ongoing support:
---
History
---
Property
Information on head lease and sub-leases
The Thredbo Property Department is responsible for the business relating to the head lease and some 700 sub-leases in the village. There are two main types of sub-leases at Thredbo. Long term accommodation sub-leases for holiday apartments, chalets and lodges, and retail sub-leases for the shops. If you require further information on property at Thredbo, please e-mail us atproperty_assistant@thredbo.com.au
View Properties for sale
Properties for sale can be viewed at either:
Thredbo Real Estate or,
Mountain High Real Estate
---