Thredbo Walks & Hikes are a great way to get outdoors and experience the beauty and serenity of alpine Australia. Thredbo's Kosciuszko chairlift, that runs 365 days a year provides the perfect access point to a handful of different trails to walk and hike beyond the boundaries of the resort. It doesn't matter if you're a slow pace kind of walker or looking for that 20km challenge, there is a trail to suit every type of person out there…so no excuses to get outdoors and enjoy walking amongst nature.
Thredbo Walks & Hikes guide Alexis Sirman recently took on the famous Alpine Lakes Walk and provided us with a descriptive rundown of her day and what she and her group encountered. Have a read below to get an idea of the areas you will see and book in to take on the walk yourself with one of our experienced guides.

8:50am | Meeting time!  I always get so excited when I get to meet my guests with whom I'll be sharing my favourite way to spend a day…. hiking through the Main Range of Australia.  Today we're doing the Alpine Lakes Walk, 19 km through the mountains, glacial lakes, views of the Western faces and wild flowers galore!  This is one of my favourite walks because it takes people through landscapes that exist nowhere else in Australia.  It's the perfect combination of beauty and challenge, plus you get a glass of champagne at the end!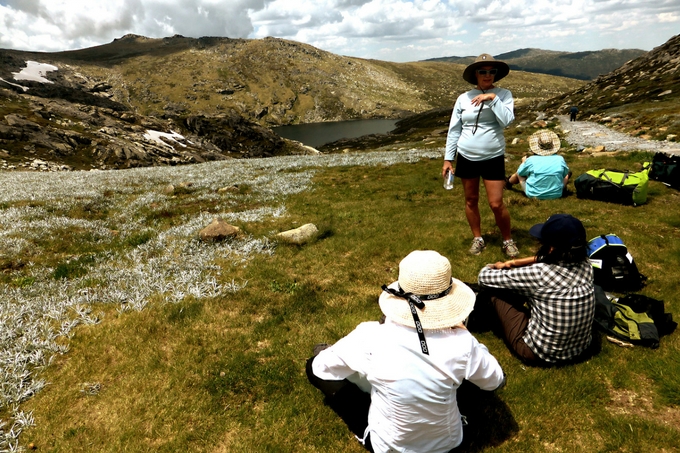 11am | Rawson pass.  We're about to leave the crowds and the metal grate behind and get into some real mountain trekking. It always makes me feel a bit of relief when we step onto the Main Range path, off the beaten track of climbing Mt. Kosciuszko.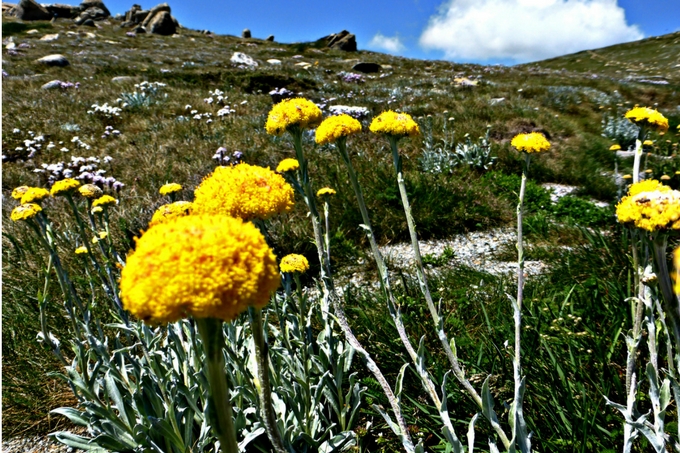 12pm | Albina Pass.  This is one of the most stunning landscapes on the Main range.   Lake Albina is by far the most picturesque of the 5 glacial Lakes will be seeing today in my opinion. Surrounded by tall rocky slopes, disappearing into Lady Northcote Canyon and home to the first days of Australian ski history, there is lots to see and you won't be left disappointed.
2pm | Top of Carruthers 2145m above sea level and our highest point.  Everyone is puffing a bit, they've just climbed a bit of a hill but that's soon forgotten as they look into the steep rocky Western Faces. Nowhere in Australia is there a landscape that looks like Watsons Crags and the sentinel.  You can tell why skiers and adventurers alike always hold a reverential opinion of this special place.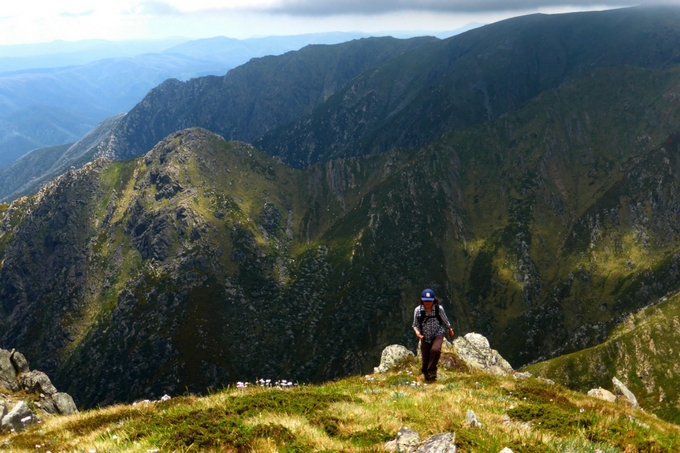 3pm | Blue Lake. It's probably the most well-known lake of the main range.  It's also a close second for beauty, and the deepest, home of its very own endemic crustacean. What a perfect place for a snack and a chance to reflect on the day before our final 5 km to Charlotte Pass.
4pm | Charlottes pass and beverages!  A cold glass of champagne in hand and a view that is truly remarkable.   It's pretty easy to feel a sense of accomplishment when you're looking back at the 19 km you've just done.  It's not something you'll forget anytime soon…