Thredbo is open 365 days a year and is a gorgeous alpine playground located half way between Sydney and Melbourne.
National park entry fee
The National Parks and Wildlife Service requires all vehicles in the Park to have an entry permit displayed on their vehicle.
The daily rate (24 hrs) per car.
$29 per vehicle
$12 per motorcycle
You can purchase your pass from:
The National Park Entrance Station on the Alpine Way 13km before Thredbo
Snowy Region Visitors Centre in Jindabyne
National Parks Visitors Centre in Khancoban
Thredbo Office, Nuggets Crossing in Jindabyne (Winter only)
Thredbo Information Centre, Thredbo
Thredbo Sports, Valley Terminal, Thredbo (Summer Only)
---
BY AIR
SNOWY MOUNTAINS AIRPORT
REX Regional Express
Services have commenced between Sydney and the Snowy Mountains (Cooma).
For more information or to make a booking:
Rex: www.rex.com.au | 13 17 13
For the winter 2017 flight schedule, click here
CANBERRA AIRPORT
Qantas and Virgin Blue service Canberra Airport from major Australian cities.
Canberra Airport is a 2.5 hour drive from Thredbo. Bookings can be made at:
Qantas: qantas.com.au | 13 13 13
Virgin Blue: virginblue.com.au | 13 67 89
---
BY COACH
Coach
Contact
Snowy Mountains Shuttles
Daily return shuttle bus service from Jindabyne ( and surrounds ) to Thredbo.
Luxury VIP private transport ex Canberra and Snowy Mountains airports.

0497888444
www.snowymountainsshuttles.com.au
Oz Snow Adventures
Coach packages to Thredbo ex Sydney and Canberra
1800 851 101
www.ozsnowadventures.com.au
Murrays Coaches - Snow Express
Daily service from Canberra during July & August. Departs on a Saturday & Sunday in September.
Ski & Snowboard Day Packages available

One Day Snow trips & packages ex Sydney. Depart every Friday & Saturday from Sydney in July & August.
13 22 51
www.murrays.com.au
Greyhound Australia
Daily services ex Canberra and Sydney
1300 473 946
www.greyhound.com.au
NSW Country Link
Return service to Canberra each Monday, Wednesday and Friday
http://www.nswtrainlink.info/home
Ski Kaos
Bus trip packages to Thredbo ex Sydney, Canberra and Brisbane
02 9908 8111
www.skikaos.com.au
Snoexpress
Service to Thredbo ex Canberra. Operates Friday and Sunday.
1800 642 112
www.snoexpress.com.au
Snow Alliance
Daily bus services and Private VIP transfers ex Canberra and Sydney
02 4572 6410
www.snowalliance.com.au
Snowlink
A daily return service from Jindabyne to Thredbo.
1800 451 575
snowlinkshuttle.com.au
Snowscene Express
Services operate Sundays & Fridays ex Canberra. Express service available
1300 745 286
www.snowscene.com.au
Transborder Alpine Express
Private charters from Canberra and surrounds, minimum 20 people.
02 6241 0033
www.transborder.com.au
SHUTTLE SERVICES
Snowy Mountains Airport - Thredbo
Alpine Resort Shuttle
Alpine Resort Shuttle will meet every REX flight at Cooma Airport between 10 June and 3 October. Bookings essential
Snowy Mountains Shuttles
Daily return shuttle bus services.
Luxury 4×4 private transport
Canberra Airport - Thredbo
Murrays Coaches, Buses & Limousine
Hire of limousines, mini coaches, or large coach for a groups.
Ph 13 22 59
Elite Transport
02 6126 1542
Hire of limousines and small mini buses
Snowlink
02 6456 1591
A VIP service from Canberra Airport on availability
Alpine Charters
02 6456 7340
Personal one way bus and limousine service
Chauffeur driven Mercedes 4 seater available for charter
Snow Alliance
1800 280 121
Will meet any flight from Canberra airport.
Summit Coaches
1800 608 008
Small group or large family transfers from Canberra Airport.
0497888444
Daily return shuttle bus services.
Luxury 4×4 private transport
PRIVATE TRANSFERS
0497 888 008
Daily return shuttle bus service from Jindabyne ( and surrounds ) to Thredbo.
Luxury 4×4 private transport
Snow Connect
0455 577 478
Private transfers to the snow in 4WD Jeep Wrangler vehicles.
RENTAL CAR
Europcar Car Rental
Rent a car from Canberra and drive to Thredbo.
---
BY CAR
Your ticket to the divine alpine is just 6 hours drive from both Sydney and Melbourne. If you're cruising to the mountains from Sydney, once you're on the Eastern Distributor there are only a few sets of traffic lights to Thredbo. From Melbourne, the fully sealed Kosciuszko Alpine Way is your scenic window as you wind through the spectacular Kosciuszko National Park.
The roads are clear for most of the year, but when the big snowfalls hit, chains may be required for 2 wheel drives. Chains can be hired in Jindabyne and Khancoban. When hiring they will need to know your tyre size and be sure to ask them about any fitting tips. A tip from us is to practice fitting your chains and to pack an old blanket to use when fitting them.
For up to date road conditions please call the RTA traffic information line on 132 701. Select option 1 for road closures from storms, snow and ice etc and then option 1 again for Southern NSW. This will take you straight to the conditions for the Snowy Mountains.
If in the local area tune to 2XL or 97.7 Snow FM for regular updates.
The National Parks and Wildlife Service collect park use fees upon entry to the park. You can purchase your pass from the Entrance Station 13km before you get to Thredbo, the Snowy Region Visitors Centre in Jindabyne, the National Parks Visitors Centre in Khancoban, or the Thredbo Information Centre.
Check out some tips for safe snow driving before you leave home
Distance & driving times from major cities
Sydney 5 - 6.5 hours 500km (approx.)
Melbourne 5.5 - 7 hours 500km (approx.)
Canberra 2.5 hours 180km (approx.)
DRIVING FROM SYDNEY

Follow the Hume Highway from Sydney then just south of Goulburn take the Federal Highway and travel south to Canberra. This section of the trip is mainly on a divided road. From Canberra follow the signs to the Monaro Highway to Cooma. This road then joins the Kosciuszko Rd that you follow through the town of Berridale and onto Jindabyne. Just past Jindabyne Town Centre take a left onto the Alpine Way to Thredbo. You will go through the National Park Entrance Station, and from there it is only 13km to Thredbo and snow riding bliss.
DRIVING FROM MELBOURNE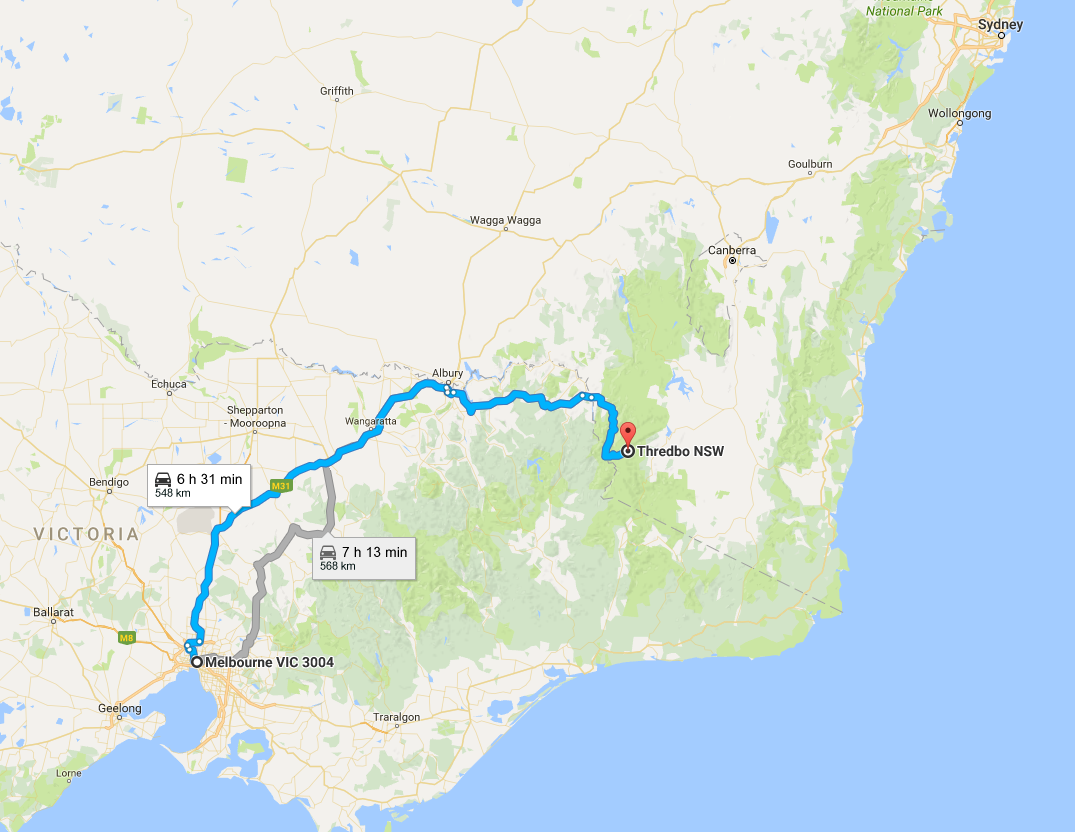 Follow the Hume Highway from Melbourne to Wodonga. Take the Murray Valley Highway's Wodonga/Tallangatta exit. After passing Wodonga follow the signs to Tallangatta, again on the Murray Valley Highway. You pass through the village of Koetong onto Corryong. Drive through Corryong and take the "Khancoban" turn-off on your right. Once in Khancoban you are only 76kms from Thredbo. From here the drive is truly spectacular as you take in awesome views of the Main Range and discover the beauty of the Kosciuszko National Park. The roads are clear for most of the year but when a big snowfall hits, chains are required for 2-wheel drive vehicles.
An alternate route from Melbourne is the Kosciuszko Alpine Way, which lets you experience the wonder of the Snowy Mountains as you wind along the great Murray River. Your journey will take you through quaint country towns dotted with historic huts, homesteads and buildings. You can marvel at the power of the Snowy Scheme, take in views of the Main Range, Wymah Punt over Lake Hume, lakes Eucumbene and Jindabyne, and even freshen up with a dip in the Murray itself. The diverse wildlife of the Kosciuszko National Park makes this experience truly memorable.
CAR PARKING IN THREDBO
Convenience is what staying in Thredbo is all about and car parking is just that, convenient.
Thredbo has over 2,500 car park spaces with both day and overnight parking available. It is free to park your car in Thredbo whether staying overnight or here for the day. (You will still need to pay the National Parks entry fee).
For skiers and boarders just driving in for the day, it is only a short stroll from the car park to the slopes of Friday Flat and the Gunbarrel Express that gives you access to the whole mountain. If staying overnight many lodges, apartments and chalets have on-site parking, so check when booking in, if not, there are designated overnight car parks.
FREE RESORT SHUTTLE BUS (winter only)
Operates around the village and to Friday Flat. In the evening the shuttle service operates until 9pm Sunday to Thursday and until midnight on Friday and Saturday nights in busy times.
In the summertime there is no shuttle service but stacks of close by parking (the weather is so gorgeous it makes a nice stroll).
---