Accommodation
Overview
When you stay in-resort in Thredbo you are close to everything, just park the car at the start of your holiday and pick it up to leave.
All accommodation is within easy walking distance to the lifts and village. The layout of Thredbo ensures that there is a mountain view from most places so you can throw back the curtains for your on the spot weather report. The variety of accommodation on offer is a highlight, families, couples, buddies, singles can choose from catered lodge style, hotels, luxurious apartments and self-contained units.
Thredbo Resort Centre, planning your alpine escape has never been easier.
Based in Thredbo, the team at Thredbo Resort Centre have their finger on the pulse of what's happening and can book everything from  accommodation and hire to babysitters and hot dinners. Whether it's a weekend away with your mates, a romantic getaway, or your annual holiday, the team at the Resort Centre can help make it effortlessly happen.

Contact Thredbo Resort Centre on 1300 020 589 or email reservations@thredbo.com.au
---
Plan a trip
Book your holiday online
Or call 1300 020 589 to speak to speak with a Thredbo holiday specialist
Download Your Thredbo 2014 Summer Planner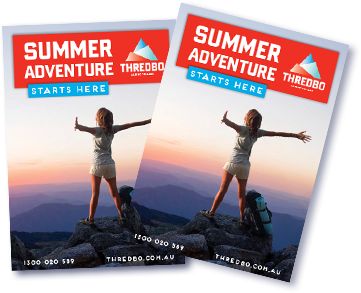 Packed with everything you need for your ultimate summer adventure.
- Mountain Bike trails and clinics
- New Summer Walks
- Kids and family activities
- 3 for 2 Deal and so much more!