Sign up to Thredbo Resort Report
Resort Report
Wednesday 01 October, 5 am, By Lauren Tomasi
A pinch and a punch! October is here and certainly brought with it some cold temperatures overnight, which dropped well below negative. Clouds are clearing up for some beautiful sunny days to round out what has been a fantastic 2014 Winter season!
Weather Top
-6°C. A partly cloudy day up here, there is a chance of some snow through this morning before clouds clear up. Light to moderate winds about the peaks and a chilly high of +2°C is expected.
Weather Village
0°C. A bit of a breeze around the Village this morning as a few clouds stick around. A high of +6°C is expected.
Snow Conditions
The cover is patchy in areas. Cold temperatures overnight firmed up the snow, which will only soften slightly with the cooler temperatures we are seeing.
Lifts Operating
4 lifts set to operate: Easy Does It Chairlift ,One Snow Runner, Kosi Express Chairlift, Basin T-Bar, The Bobsled
Groomed Runs
The Basin and Friday Flat have both been groomed up for Spring riding!
More details
Need more detailed weather info?
Follow the Bureau of Meteorology's web site using the links below
Temperature trend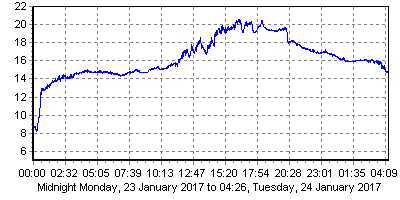 Wind speed
Barometer