Thredbo has one of the best ski and snowboard schools in Australia and offers a variety of lessons and programs to suit all abilities. Ski and snowboard lessons from Thredbo's outstanding team of instructors provide the best possible opportunity to learn or improve your skills, build confidence on the mountain and access lift line priority.
---
Development Squad Ski (6 to 17 Years) &  Snowboard (7-17 years)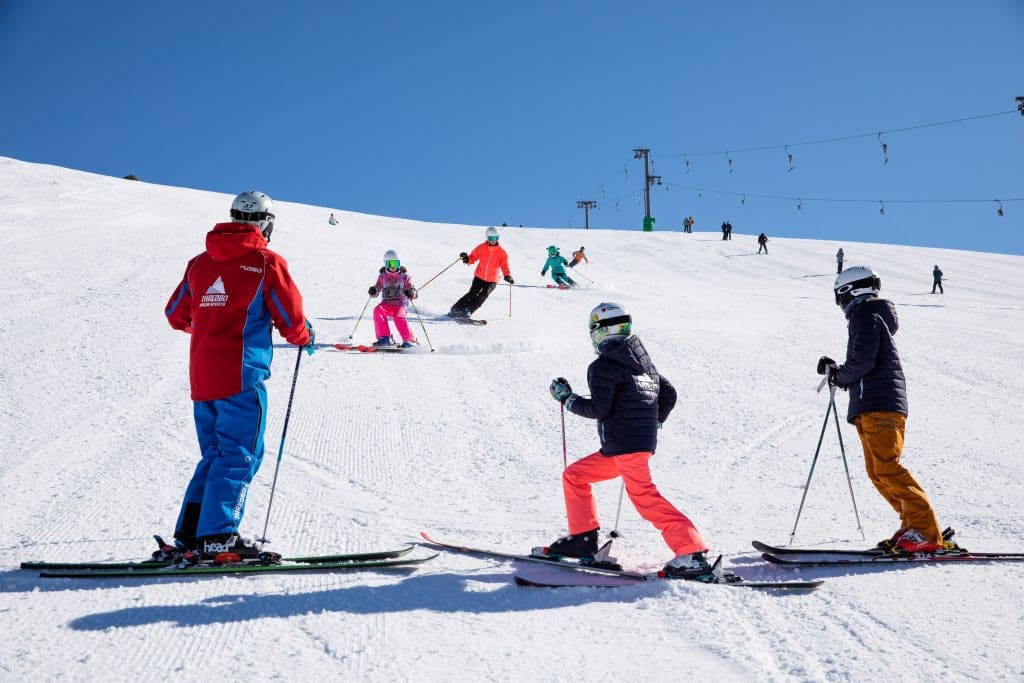 The Development Squad is an intensive high-end program for children who want to focus on developing their skiing/riding skills at a competition level. The program aims to strengthen free skiing skills, enhance technical knowledge, fine-tune race techniques, and improve strength and confidence in all terrain and conditions. The program provides a fun, social environment where participants will learn to work harder to improve and achieve their goals. Most athletes in this program will be involved in competition events such as Interschool competitions. Athletes will train in a variety of disciplines such as alpine racing, skier cross/boarder cross, moguls, Terrain Park, big mountain and overall skill development. The program is perfect for those wanting to increase skills for a variety of disciplines as well as those working towards a pathway program where they will focus on a specific discipline.
NEW FOR 2019 
A 35 Day intensive Development program will be available for those wanting to take their competition skiing and riding to the next level. Interested athletes must be 8 years and above and ski/ride at a strong advanced level. This program will involve a greater level of commitment from athletes not only in the time allocated but in their overall fitness and focus on competition. Athletes wishing to join this program should have previously participated in a program and will more than likely have competed at a National Interschool's event. The Mountain Academy program should be in the sights of those joining this program.
Lesson Benefits
All day coaching with up to 6 hours of on-snow time each training day
Experienced coaches from around the globe – meet our Seasonal Program coaches
Healthy Lunch, snacks & beverages
Training in all interschool disciplines
Development of well-rounded skiers/riders
Alpine and freestyle camps under the watchful eye of some of the country's best snow athletes
Competitions
Interschool event support (conditions apply)
Goal setting
Access to strength and conditioning training at our high altitude facility
End of season BBQ and presentation
In the case of injury or other detailed occurrence program protection can be purchased for an additional $30
What you need to know
Athletes must be a level 6 standard or above to participate in the program. Click here to find out what level are you.
Program runs 22 June- 1 September
Full Time programs include weekly Sunday sessions, and 3 x intensive weekend camps and choice of school holiday commitment
19, 24 and 29 Day programs include weekly Sunday sessions, and 3 x intensive weekend camps and choice of school holiday commitment.
35 Day program includes Saturday and Sunday sessions, 3 x 6 day school holiday weeks and additional training leading into State and National Interschool's. See calendar for specific dates
Intensive Weekend Dates

22 – 23 June – Winter Warm-Up
3 August – 4 August – Alpine/Skier X Camp
17 August – 18 August – Mogul Camp

Choice to include 1,2, or 3 school holiday weeks
SCHOOL HOLIDAY BLOCKS

WEEK 1 – 1 July – 7 July
WEEK 2 – 8 July – 14 July
WEEK 3 – 15 July – 21 July (available with 24 and 29 day programs only)
Saturday is the scheduled day off during school holiday weeks

2019 season pass with leisure centre access is required for the Development Squad. Click here to purchase season pass.
Minimum of two consecutive weeks for school holiday only athletes
Additional Saturdays and Interschools training available to add on to existing programs – see calendar
Does not include lift pass
2019 Development Squad Calendar coming soon
For further information contact
Natasha Murray
Email: natasha_murray@evt.com
Phone: 02 64594172