Thredbo Weather Report
Live cams
Resort Report, Wednesday 02 September, 5 am
By Lauren Tomasi
A cold night of snowmaking topped up the cover with 130 guns blasting, ahead of another beautiful day in the mountains!
Weather Top
-1°C. Only a few clouds about this morning, with light winds about the peaks. We are expecting the cloud cover to roll in this afternoon, with snow showers at higher altitudes. Heading for a top of +5°C.
Weather Village
-5°C. A chilly morning in the village, with barely a breath of wind. We are expecting a partly cloudy day and the expected top temperature between 9am and 3pm is +8°C.
Snow Conditions
130 snow guns topped up the cover overnight, leaving things looking fun, fresh and fantastic for your Wednesday. Early up will be the time to head out, with the groomed runs looking superb.
Lifts Operating
All 14 lifts are set to operate.
Groomed Runs
All major trails have been groomed.

Trend Analysis
Temperature trend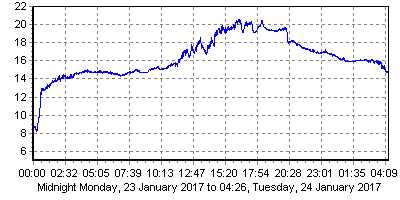 Wind speed