Thredbo is one of Australia's premier mountain biking destinations and this summer it takes freeriding and cross country exploring and action to a whole new level and elevation. With a new trail network and revamped existing tracks there is 25 kilometres of epic riding to enjoy in Thredbo. From downhill, cross country, all-mountain and a BMX style pump track there is lots to love about riding in Thredbo this summer.
The 2016/17 MTB Season runs from 19 November to 1 May. The chairlift is open for mountain bikers from 9.30am-4pm and the retail/rental shop is open from 8.30am-5pm
Keep up to date on trails, events, offers and more and like Thredbo MTB on Facebook

Check out the Thredbo MTB video gallery..
THREDBO MTB TRAIL MAP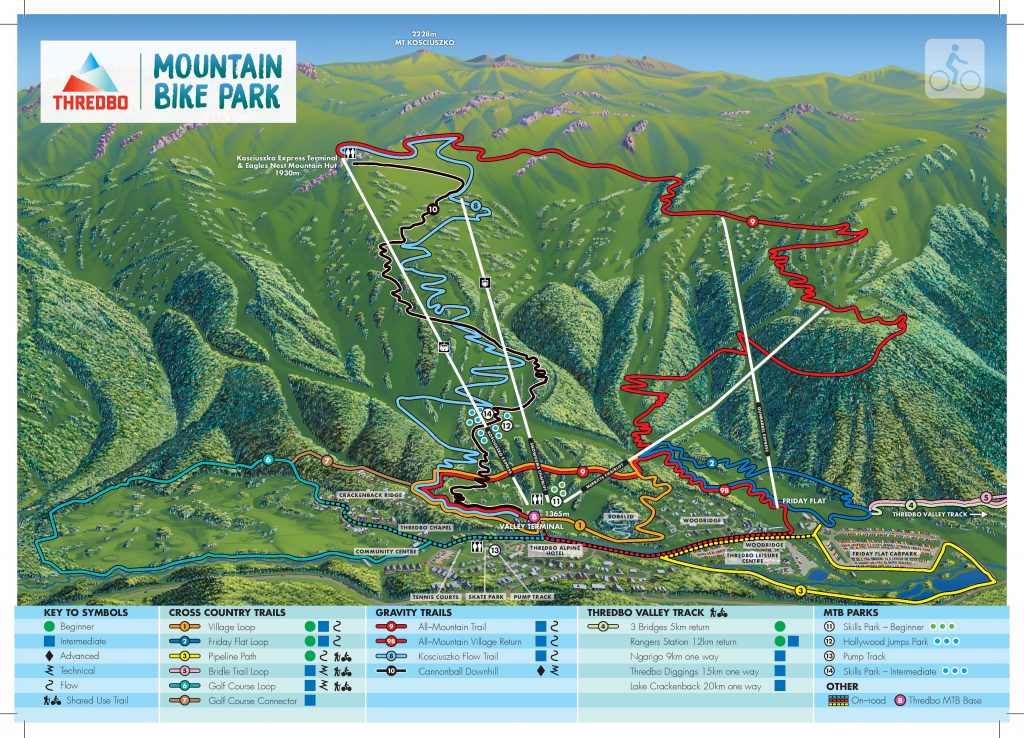 THREDBO MTB
Thredbo MTB is the one stop mountain bike team. Located at the base of the chairlift the professional team are on hand to give you tips, tours, lessons, advice on the right gear and a workshop to keep you and your bike in top shape for hitting the tracks and trails in the mountains.
What's on offer:
Lift serviced Cannonball Downhill, Flow Trail and All-Mountain Trail
A new network of cross country trails
Revamped Pump Track
Jump Park
Custom and guided tours
Clinics and private sessions
Thredbo Valley Track tours and pick-ups
Downhill, X-Country and All-Mountain bike rental
Retail store
MTB Workshop
What's New for 2015/16
New XC Trails
The new beginner/intermediate cross country network on the valley floor that extends from Friday Flat, looping around the mid-lower mountain before taking you to the scenic Riverside and Golf Course trails, it is a must for all mountain bike enthusiasts. There are plenty of climbs, a nice mix of descents and lots to see as you traverse around Thredbo on the flowing trails.
All-Mountain Trail
The latest and greatest in Thredbo's expanding trail network. The new Thredbo All-Mountain Trail head is at the peak of Gunbarrel Express Chairlift. It promises unrivalled views down the Thredbo Valley towards Jindabyne. The descent takes you through the Cruiser ski area, winding down the slopes you negotiate flowing switchbacks, smooth rollers, boulder rides and some fast downhill sections.
Then you are into impressive tall eucalypt forest, then onto open snowgrass fields and High Noon slopes. The All-Mountain trail provides some of the best flowing single-track on offer in Thredbo. Although not as steep and technical as the Kosciuszko Flow Trail, it offers advanced riders more difficult line options with or without the wheels leaving the ground. This trail is ideal on a small travel all mountain bike.
Once at the trail head you can decide whether to continue along the village cross country network or hook into the spectacular Thredbo Valley Track.
Pump Track
The Thredbo Pump Track on the Village Green will be fully rebuilt for the 2015/16 summer season. Designed by Dirt Art, the pump track offers a blast for all riding styles. The track design is fairly free form, but still offers great head to head racing through the two main lines. There is near endless variations possible on the race lines and plenty of gaps and jumps to be scoped throughout the endless rollers.
Skills Park
The Snowgums Skills Park is the perfect spot to fine tune your techniques and skills before transferring them onto the mountain trails. With a new look for summer 15/16, the skills park features sculpted berms, a progressive line of drops, ladder bridges and small rolling jumps ensuring a safe environment to refine all the skills needed to rip up the more advanced trails.
Clinics and Lessons
This summer will see the introduction of a whole new range of clinics and lessons on offer. With a new first timer clinic perfect for those looking for an introduction to the chairlift and the epic riding in Thredbo, along with a re-structured clinic & private lesson schedule, Thredbo MTB qualified guides and instructors will take your riding to the next level in no time. All guides and instructors are Level 1 Professional Mountain Bike Instructor qualified.
MTB Freeriders
Thredbo MTB Freeriders is a rad riding day for 10-15 year olds who are keen to spend the day riding in a group environment learning mountain bike skills and techniques from the qualified team of Thredbo MTB instructors. MTB Freeriders is all about having fun with your mates and picking up a few tips along the way. The sessions cover all aspects of mountain biking in Thredbo from the Pump Track, to Jump Park, the famous gravity trails and basic bike mechanics.