MTB GROUP CLINICS
If you are looking to tweak your mountain bike skills, gain confidence riding the mountain or after tips on trying something new there is a group clinic for you. The Thredbo MTB guides and instructors are Professional Mountain Bike Instructor qualified and are sure to take your riding to the next level in no time.
BEGINNER CLINIC
Recommended for first time mountain bikers to Thredbo. The beginner clinic utilises the village skills parks and valley floor trails with the aim of concentrating on the fundamentals of mountain biking. The clinic covers the neutral riding position, basic braking techniques, bike control and cornering. This clinic is a great introduction to mountain biking and will not use the chairlift gravity trails. Maximum four people per clinic.
INTERMEDIATE CLINIC
The Intermediate clinic perfect for those looking to improve their gravity riding skills on intermediate trails. The clinic covers the necessary skills to ride gravity trails safely including correct body position, heavy braking, advanced cornering, rollers and small jumps and drops. This clinic uses the Kosciuszko Flow Trail and Thredbo All-Mountain Trail. Maximum four people per clinic.
ADVANCED DOWNHILL CLINIC 1:00pm only
The Advanced clinic takes riders on the Kosciuszko Flow Trail and Cannonball Downhill Trail. It will give riders insight into correct line choices, aggressive riding positions and dynamic cornering. The group will also have the option to utilise the jump and skills parks to brush up on their jumping and drop skills. This is ideal for riders who are looking at getting into more technical terrain like rock gardens, drops and jumps.
Riders should be comfortable on the Kosciuszko Flow Trail before undertaking this clinic. Maximum two people per clinic.
When: Daily & 10:00am & 1:00pm
Length: 2 hours
Price: $50 per person
Bookings essential.
Lift access not included.
Rental and protective equipment not included.
Clinics available for ages 10+ years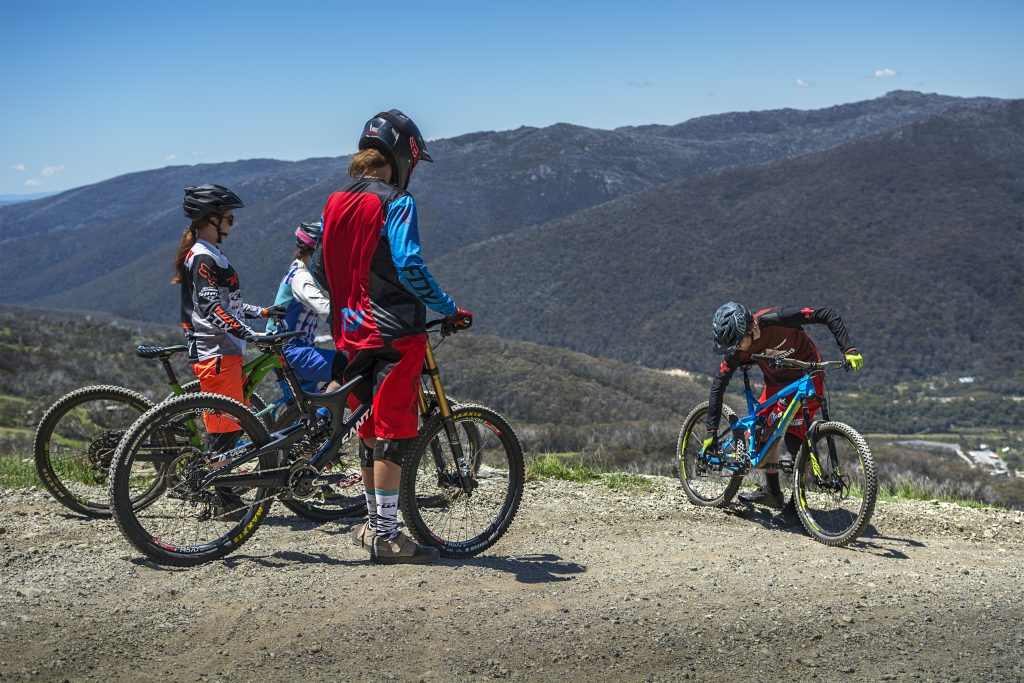 PRIVATE LESSONS
If you are looking for a session geared around you and your outcomes, the more intensive 2.5hr private lessons are ideal. Guided by Thredbo MTB's experienced instructors, riders focus on developing individual skills and techniques needed to ride Thredbo's terrain. From cornering, to climbing, to rock drops and chutes, our instructors have all of the tips to improve your riding and make your mountain biking experience as enjoyable as possible. Riders seeking a more personalised teaching experience, at any level, will benefit from a private lesson tailored to the rider's individual needs.
Length: 2.5 hours
Time: 9:30am & 1:00pm
Price: $180 for up to 3 people

Bookings Essential
Lift access not included
Rental and protective equipment not included
MOUNTAIN BIKE PARK TOUR
New for 2016/17, this tour is a perfect introduction to the great riding on offer in Thredbo. The tour starts off with a bike safety check followed by instruction in loading and unloading of the chairlift with a bike. Once at the peak of Kosciuszko Express Chairlift, the tour heads to the new All Mountain Trail above the tree line into the high alpine terrain with unrivalled views down the Thredbo Valley. Traversing the upper slopes, the tour descends over 600m vertical through eucalypt forests and open summer slopes to the Friday Flat area before making you way back to the Thredbo MTB base via Friday Drive. Along the way your experienced guide will give you an overview and points of interest to ensure fun safe riding in the Thredbo Bike Park.
When: Daily
Time: 10am
Ability: Intermediate
Cost: $35
Bookings essential
Lift access not included
Group size limited to 15 riders.
Thredbo Bike Park Tour is not an instructional clinic. For riders wanting tuition are to go into a two hour clinic.
MTB FREERIDERS
Thredbo MTB Freeriders is a rad riding day for 10-15 year olds who are keen to spend the day riding in a group environment while learning mountain biking skills and techniques from qualified instructors. MTB Freeriders is all about having fun with your mates and picking up a few tips along the way, it will cover all aspects of mountain biking in Thredbo from the Pump Track, to Jump Park and of course Thredbo's famous gravity trails. Basic bike mechanics will also be included in the day.
Beginner and intermediate riders age 10 to 15 years.
Some basic bike handling skills required
Group sizes are a minimum 2 people and maximum 8 people
Included in the program:
Up to 5.5 hours of riding time with our fun instructors
Lunch provided
Novelty Pump Track races
Basic bike mechanic session
Program Dates: Saturdays and Sundays from 31 December 2016 to 29 January 2017
Drop Off: 9:30am
Pick Up: 3:30pm
Where: Base of Kosciuszko Express Chairlift
Bookings essential
Lift access not included
THREDBO GRAVITY GIRLS
Gravity Girls is a women's specific mountainbike clinic designed to offer girls a non-intimidating introduction to downhill riding in Thredbo Resort. The clinic will suit riders of all abilities with the aim to progressively improve their skills throughout the day.
World cup racers Tegan Molloy and Claire Whiteman will be on hand as head coaches, ensuring the girls are on point when it comes to downhill techniques. The day will cover all aspects of riding including body position, cornering, braking, drops and jumps in a group environment.
The vast variety of terrain in Thredbo will no doubt give the girls plenty of trails to progress on with the new All Mountain Trail, Flow Trail, Cannonball Downhill and Skills Park all on offer. This is a great way to meet other riders and build confidence on the mountain in an encouraging all female environment. Participants will also receive a discounted lunch + free drink thanks to the Thredbo Alpine Hotel.
Date: 4 December, 15 January (FULL) , 26 March, 9 April
Cost: $50 + lift ticket
Time: 9:30am – 3.00pm
What to bring: Solid shoes, comfortable riding clothes
Bike: Bring your own bike or hire one of Thredbo MTB rental fleet.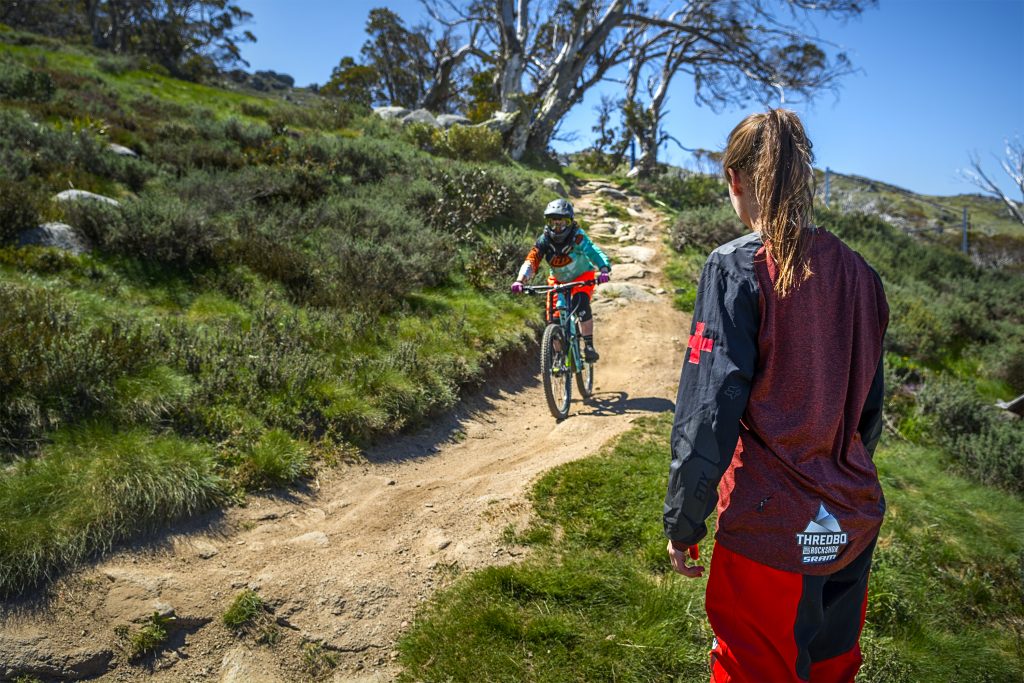 THREDBO VALLEY TRACK SHUTTLE
The Thredbo Valley Track is a beautiful and exciting ride from Thredbo to Lake Crackenback Resort. It boasts scenic undulating terrain, woodlands, forests, grasslands and impressive suspension bridges. While meandering along the sparkling Thredbo River, the views sweep right through the Thredbo Valley - this must-do ride gives you a taste of alpine Australia on two-wheels. The regular complimentary shuttle services can pick you up after your ride to bring you back to Thredbo.
When: Available every Saturday and Sunday. Daily in holiday periods from 26 December 2016 – 29 January 2017
Time: 3.00pm
Where: Alpine Larder Cafe - Lake Crackenback Resort
Cost: Free. Bookings Essential.
Bookings essential
Limited to 19 guests per pickup
Group bookings & tours can also be arranged.