Child Private Lessons are the perfect option for kids aged between 3 and 17 to learn new skills, develop a love for skiing and snowboarding and explore the mountain. Thredbo boasts the best children's ski and snowboard instructors and coaches in Australia. The experienced team will give dedicated attention to your child or teenager while delivering a fun and safe learning environment.
This winter season, there is a daily limit on how many guests are on the mountain, it is a requirement that all guests have a valid lift pass to attend a lesson. If you have not done so already please purchase your lift pass first, before attempting to book your lessons. Buy Passes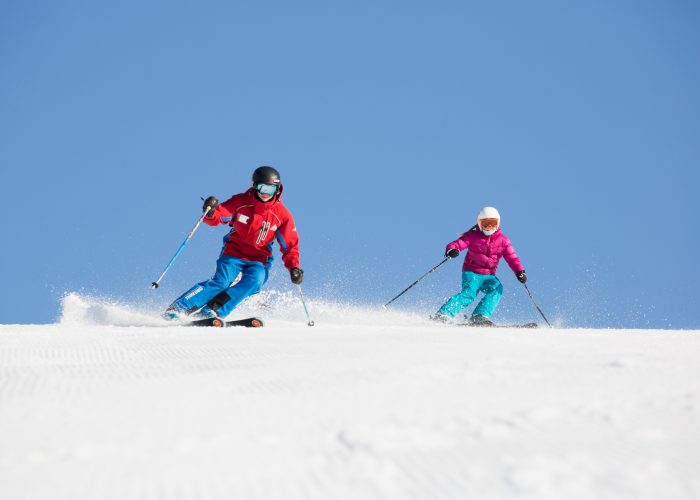 Lesson Benefits
Whether your child is a beginner or looking to progress rapidly, after a private lesson you'll see improvement in their confidence and riding!
Lessons cater to individual needs and goals
Opportunity to progress rapidly
Flexible lesson start times and duration
Lift line priority
Experienced instructors and coaches
Adventure while exploring Thredbo's varied terrain
Child Private Lesson Pricing
Private Lessons*
Maximum of 3 People**
2 Hour at 8:30am or 10:30am
$345
3 Hour at 8:30am
$399
3 Hour at 9:00am
$399
3 Hour at 1:00pm
$275
6 Hour at 8:30am
$835
6 Hour at 9:00am
$835
*Private Lessons do not include a Lift Pass.
**Rates shown are for up to 3 people; all participants must be from the same household

Meeting Location: Friday Flat Children's Private Lesson Meeting area between the Clock Tower and Gunbarrel. Yellow meeting area flags will be displayed.

Bookings Essential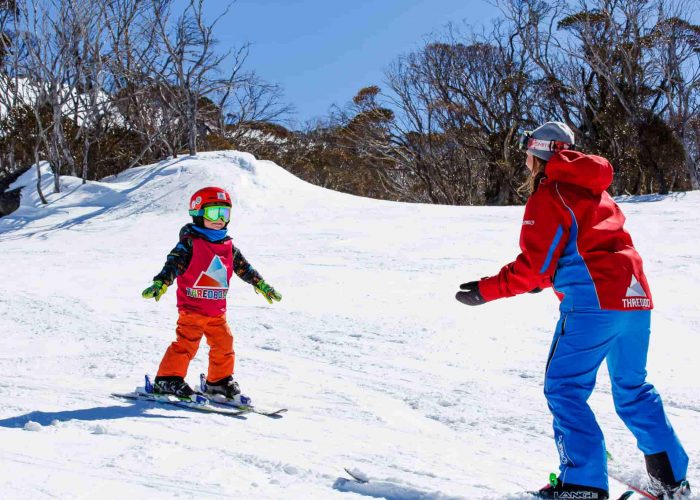 'It's All About Me' lessons | 4 years and under
For the real little snow goers who may not be ready for a long lesson or just want to give skiing a try we recommend this one hour, one-on-one session. We pair your child with a specialised instructor with dedicated 100% attention.
Price: $103 for the one hour lesson
Start Time: Choice of 9:00am, 10:00am or 11:00am
Enquire Now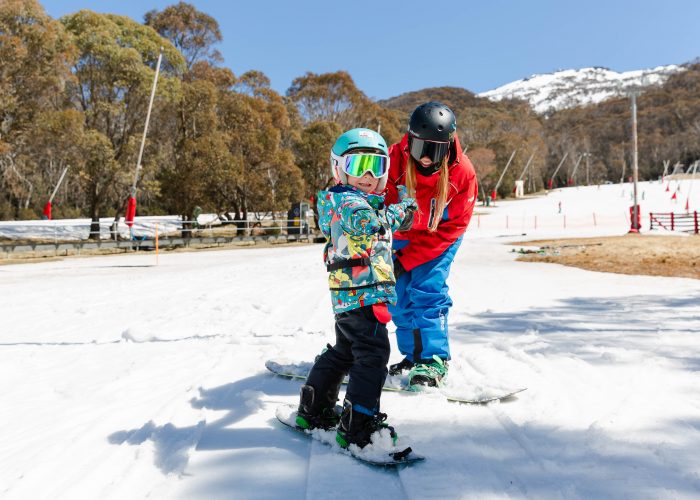 What You Need To Know
Ability Level: To pair your child with the best instructor please specify your child's level.
Class Size: Up to 3 children from one household are able to participate in a private lesson.

Operating with social distancing and following the Government's latest COVID-19 advice.

Meeting Point: All Child Private Lessons meet on Friday Flat in front of Thredboland. Look out for the large fenced area with alphabetical yellow flags. Stand by the one that matches your surname.
Pick Up: Children will return with their instructor to the alphabetical flags they met at the commencement of their lesson. Instructors will available for a short overview of the lesson before the end of the lesson. All child/ren must be picked up by the nominated parent/guardian.

Teenagers 13 years and over may leave the meeting area without a parent/guardian being present.

Ages 3 – 17 years

Age calculated at product start date.
Max5 Lessons
Max5 Lessons are great for kids that want to learn in small groups in a fun social environment with kids of a similar age. Our expert instructors are dedicated to improving skill level while showing the mini shredders a great time on the mountain.
Max5 Lessons are available for kids aged 7 years and over:
Bookings
Please complete the below booking form to make a booking or if have any more questions:
Phone: 02 6459 4044
Email: snowsportsbookings@evt.com
In resort: Thredbo Resort Guest Services (Valley Terminal or Friday Flat)
Child Private Lesson Booking Form
Frequently Asked Questions
Sign up for news
Subscribe to our newsletter to receive deals, the latest weather, forecasts, news, events and more!